"
Enter the Forest World Gate and secure the village observatory page!
"
–In-Game Task Prompt

Star Forest is the fourth level in the Forest Gate.
CreationsEdit
Rescued Raposa Quotes Edit
"
Thank you! Your timing could not have been better! I came to study the stars... but I'm ready to return to the village!
"
"
My husband Galileo is the smarest Rapo around!
"
"
My dad is the smartest Rapo in the world!
"
Template PageEdit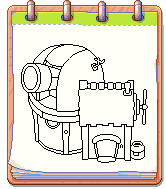 The page for the village Observatory is found here.
---
Ad blocker interference detected!
Wikia is a free-to-use site that makes money from advertising. We have a modified experience for viewers using ad blockers

Wikia is not accessible if you've made further modifications. Remove the custom ad blocker rule(s) and the page will load as expected.