Welcome to the Drawn to Life Wiki!
Melon

Melon is a teenage Raposa in Drawn to Life: The Next Chapter. She resides in the east side of Lavasteam next to the Magma Flow Factory. Melon has a younger sister named Cherry, whom she finds annoying.
Much like other female villagers in Lavasteam, Melon was tasked with sweeping the floor and keeping the area clean. She dreams of moving to Watersong to become a superstar and where, according to her, the males know how to treat a lady. Melon's uniform is standard among all Raposa females in Lavasteam.
Which is the best Raposa named after food?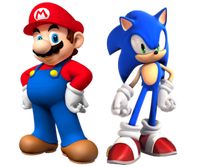 Platformer Games
Go to these sites for info or for help with your own wiki!
A Hat in Time • Azure Striker Gunvolt • Banjo-Kazooie • Bloodstained: Ritual of the Night • Broforce • Castlevania • Cave Story • Code: Hardcore • Conker • Contra • Crash Bandicoot • Croc • Cuphead • Donkey Kong • Drawn to Life • Epic Mickey • Ganbare Goemon • Jak and Daxter • Jazz Jackrabbit • Kirby • LittleBigPlanet • Mario • Mega Man • Metal Slug • Metroid • Oddworld • Ratchet & Clank • Rayman • Shantae (and WayForward games) • Shovel Knight • Sonic • Spyro the Dragon • Strider • Yooka-Laylee
Want your community included? See how!
See all of our Platformer gaming wikis!

---
This Wiki was designed for use on the desktop and may not function properly using a mobile device. Please consider switching to the full site by clicking here.
---