Welcome to the Drawn to Life Wiki!
Samuel

Samuel is a Raposa who is rescued from Deadwood in Drawn to Life. After being returned to the village, he helps and provides advice to The Hero as they advance further into the story. Samuel is a private or secluded individual who never shows his face, rarely attends village events, and rarely speaks unless first spoken to. Because of this, not much is known about him or his past.
In Drawn to Life: The Next Chapter, Samuel may optionally be rescued from Watersong, where he is hiding from the sun under an umbrella in Symphonic Falls. If rescued, he will reside in the Creation Hall on Turtle Rock.
He wears a long robe which obstructs view of his fur and face. His robe is brown with silver or grey trimmings at the edges.
Which is your favorite Forest Gate exclusive enemy?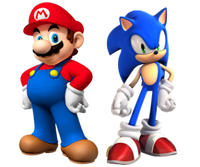 Platformer Games
Go to these sites for info or for help with your own wiki!
Azure Striker Gunvolt • Banjo-Kazooie • Broforce • Cave Story • Code: Hardcore • Conker • Contra • Crash Bandicoot • Donkey Kong • Drawn to Life • Freedom Planet • Geometry Dash • Jak and Daxter • Kirby • LittleBigPlanet • Mario • Mega Man • Metal Slug • Metroid • Mirror's Edge • Oddworld • Ratchet & Clank • Rayman • Shantae (and WayForward games) • Shovel Knight • Sly Cooper • Sonic • Spyro the Dragon • Strider • Tearaway • Yooka-Laylee
Want your community included? See how!

---
This Wiki was designed for use on the desktop and may not function properly using a mobile device. Please consider switching to the full site by clicking here.
---
Ad blocker interference detected!
Wikia is a free-to-use site that makes money from advertising. We have a modified experience for viewers using ad blockers

Wikia is not accessible if you've made further modifications. Remove the custom ad blocker rule(s) and the page will load as expected.