"
Enter Conch Ruins and bring back the Lighthouse page!
"
–In-Game Task Prompt
Conch Ruins is the fourth level in the Beach Gate.
CreationsEdit
Rescued Raposa Quotes Edit
"
"Yar! Ya saved me, I owe ya one.... Let's set sail for the closest port and plunder some Rapo coins!"
"
"
"Yarrrgh! Yar be freeing me!"
"
Template PageEdit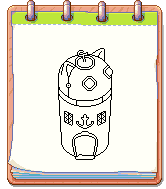 The page for the Lighthouse is found here.
This is the only underwater level to use the "Kori Jungle" backdrop.
---